It was that time of year: Nordic game conference again sang her yearly sirens call, and from all over the north, and indeed from all over the world, game developers answered the call and descended on Malmö, on Slagthuset for three days of socialising, talks, parties, business, panels and networking. Last year, I was at Nordic game conference on my own dime, and had a blast of a time. I was there without an agenda. I had nothing to sell, no meetings lined up, no objectives to fulfil, and that meant I spent the entire conference just socialising.
 This year, I was at Nordic game conference representing the science at home project, where I work part time as a producer. I had also had a talk accepted in the nordic fast track. I had my pockets full of business card sized promotional cards for the science at home project, as well as for my own game, "the meek".  I had released my pre-alpha trailer the day before NGC started, so this year, I had a lot of objectives to fulfil. And again this year, being at Nordic game was an absolute pleasure.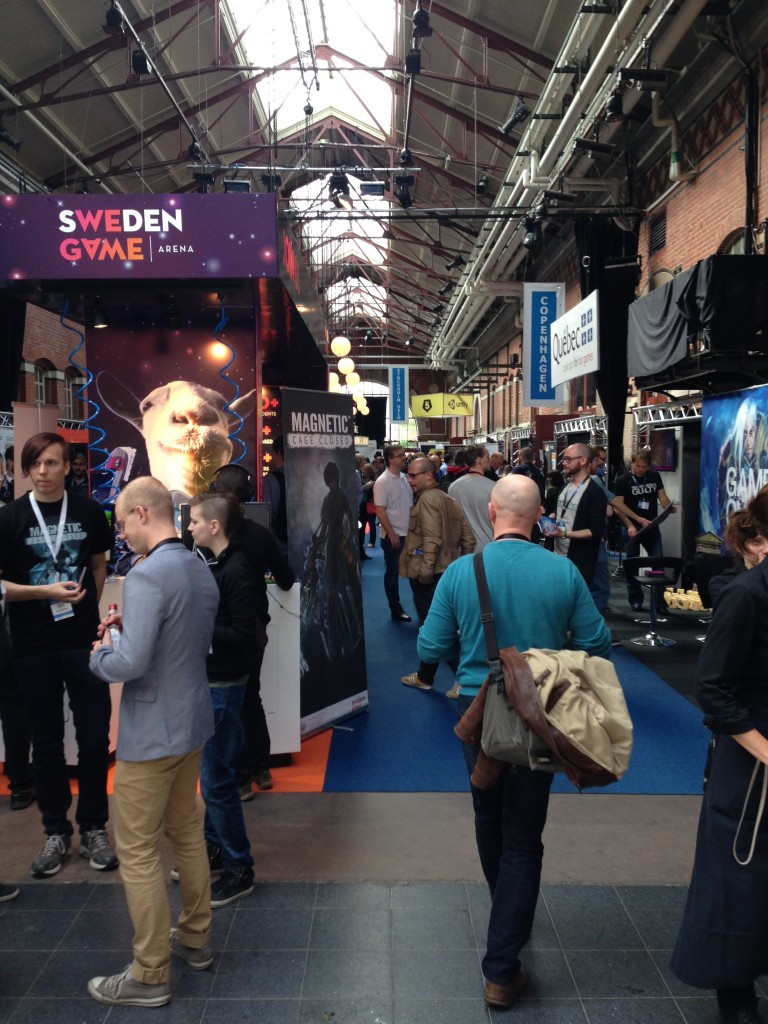 SESSIONS AND TALKS
I went to see the opening keynote by Rebecka Coutaz, the studio manager of Ubisoft Annecy, but that particular presentation was a serious disappointment: Ms Coutaz spent most of her presentation flipping through trailer after trailer for Ubisoft games. While these WERE admittedly very cool trailers (Ubisoft knows their shit for sure), the presentation which SHOULD have been about "Cross studio collaboration as a key to success", became instead "Why Ubisoft is really cool". When she did touch the subject of cross studios collaboration, the takeaways were honestly pretty collaboration 101 -ish stuff, like "be transparent and build trust" … er…. yeah ?. It's a bit sad really, cause I think there are some interesting lessons for micro companies, like for instance my own, in collaborating across studios on shared titles.
Anyway. disappointing presentation.
After Ms. Coutaz´presentation, the Nordic game funding money were distributed. five game each received 200.000 DKK (about 30.000$). This was done relatively unceremoniously, which in some ways is a bit of a shame: I like to celebrate things like that, and I think that when you do pull people on stage, some amount of pomp and circumstance would be nice.
The recipients were Minimo from Denmark, Pukk from Sweden, Mussikids Music Box of mussiland  from Finland, Look at my drawing from Denmark and Fe from Sweden.
I spent some time just messing around on the conference floor, checking out the many booths, and shaking hands with a lot of old friends and acquaintances from different companies and places. I reconnected with the guys from Unity of course, and with a couple of the guys from Mixamo. It was nice to be able to show them my trailer, which they politely said they liked.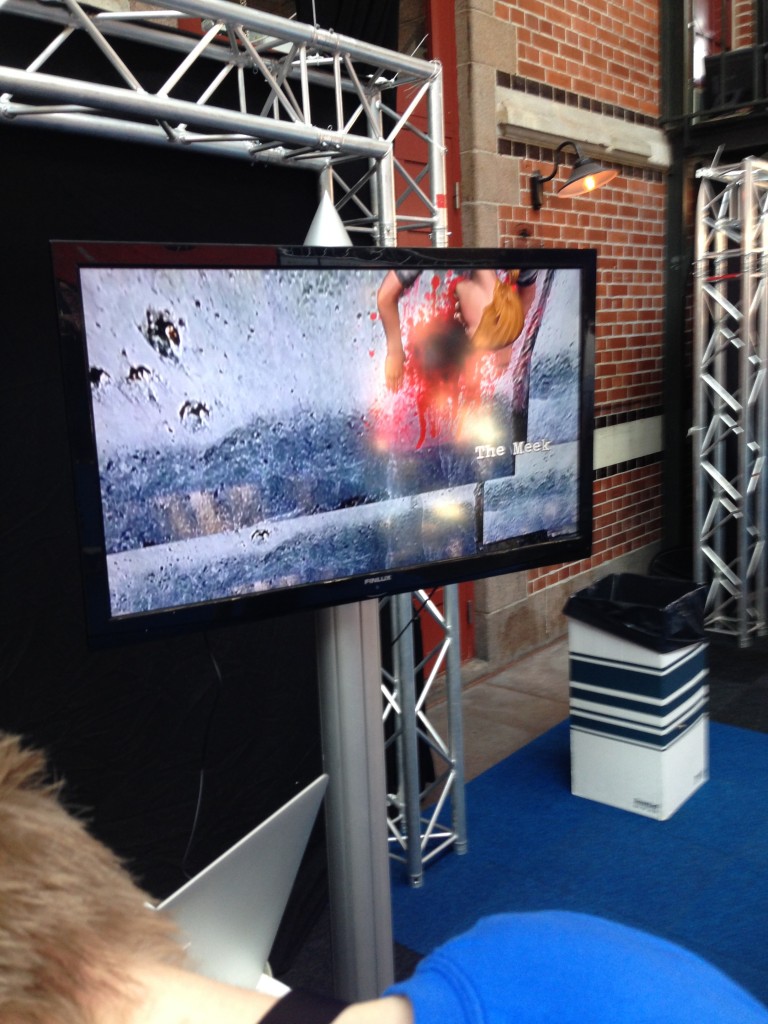 I swung by the new board game initiative, and was pleasantly surprised to see my good friend Lauge Luchaus game Bloom featured as one of the boardgames in there. Another cool thing was, that this years winner of Fastavals board game competition, Hivemind, was also one of the six featured nordic board games. I hope the boardic game sensation is a thing that has come to stay.
I went back to see the "founders of the industry" panel in the Unreal theatre, and was honestly a little disappointed: I mean, I certainly respect the panellists: they were four of the true founders of the nordic game industry… or maybe more like the swedish games industry, but honestly, the panel wasn't really all that interesting, beyond a few chuckles at at few "we're grumpy old men, dissing the youngster upstarts, except not really, cause we don't really mean it hah hah" jokes. So. that was kinda disappointing.
The next couple of talks however picked the quality up tremendeosly: Nicholas Fortugno, as usual, was brilliant, energetic and inspiring with his talk about "Impact games" (which apparently is the new term for "serious games"). Nick talked about the ways he and others design games for change, games that have a goal of changing the way the player of the game see the world, act, or in some other way impact the player. Nick pointed at Basketball as the best impact game ever; the game that should have won the nobel prize.
Wonderful talk.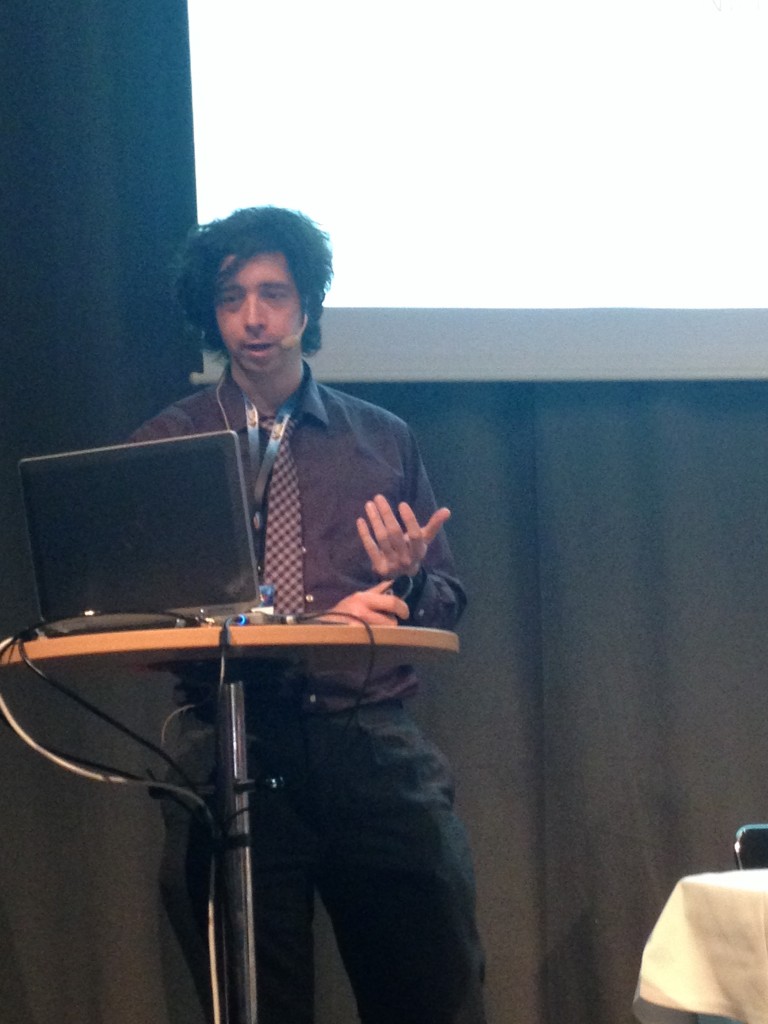 After Nicks talk, Nicole Lazzaro of XEOdesign opened her keynote with a call for "Free hugs", for the audience to hug the person next to them. We did, and Nicole had us and our complete attention for the next 45 minutes. She told about the four keys to fun, super inspiring talk, and definitely something I need to read up on more. Her way of designing towards specific types and layers of fun intuitively feels exactly right for me: I recognised many of the ways I have come to design games myself: Starting with the core second to second gameplay activity: the part she called "bubble wrap fun". then, a game loop around that, and a layer of social fun.  Nicoles talk confirmed me in that this is a good way to design, but it di so much more: it showed me WHY this is a good way to design, and even touched on the specific different hormones released in our brains as a response to those specific forms of fun. I am going to read up on her website a LOT: I feel like I have only touched the surface here.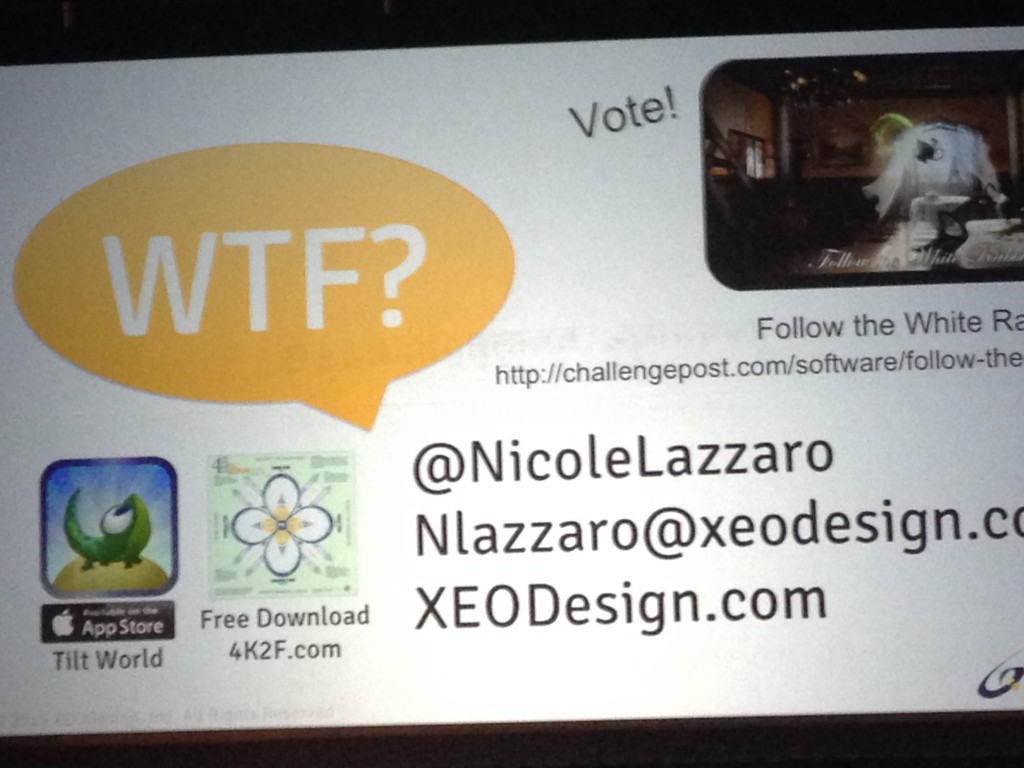 On the evening of day 1, the indie night took place. This is basically a big party, where the indie games of the nordic indie sensation selection are showcased, while people mill around and talk. A DJ hopeless tries to get people to dance by playing way to loud music, but mostly people don't dance, because awkward geek, and hey … there are games to play !.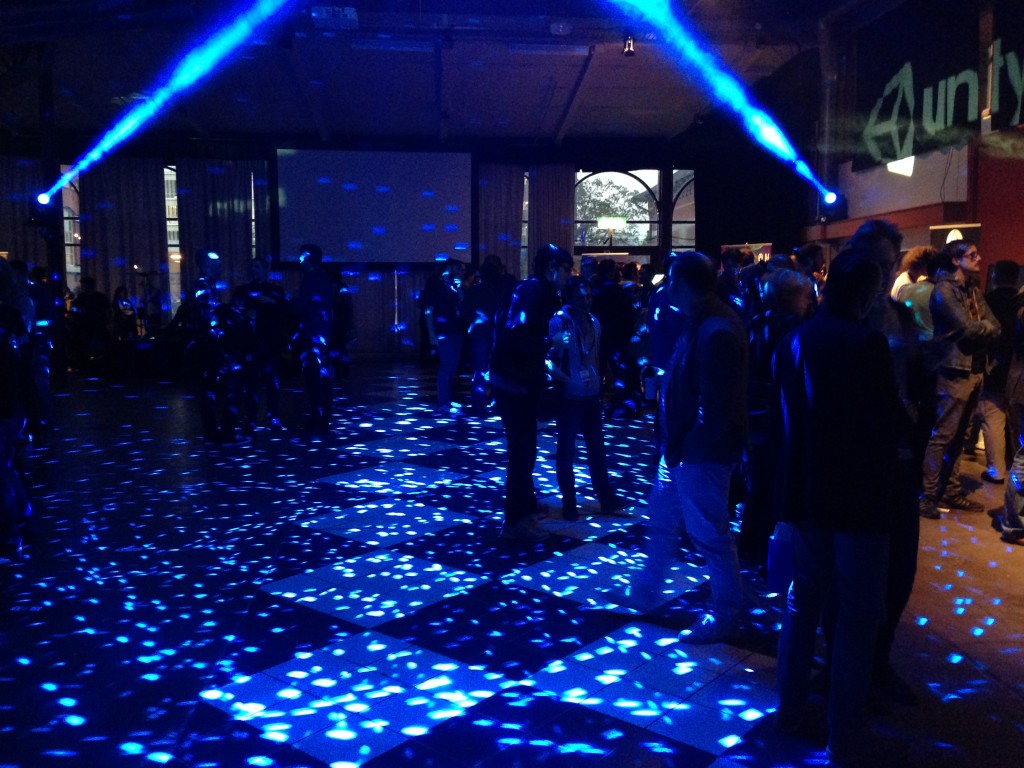 My highlight of the evening was (apart from talking to a bazillion super interesting people) to play Zero-G. I also played "Awkward Ellie" which is a VR game in which you play the part of an elephant in a tea party. You control the trunk of Ellie with motion sensor of some sort, duct taped to the oculus headset. Of course, Ellie the elephant is not particularly good at delicately drinking tea with her trunk. Despite a few laughs, awkward Ellie seems a bit "me too" after Octo dad and surgeon simulator that both explored the concept of horrible controls for fun effect, and honestly did it better than awkward Ellie.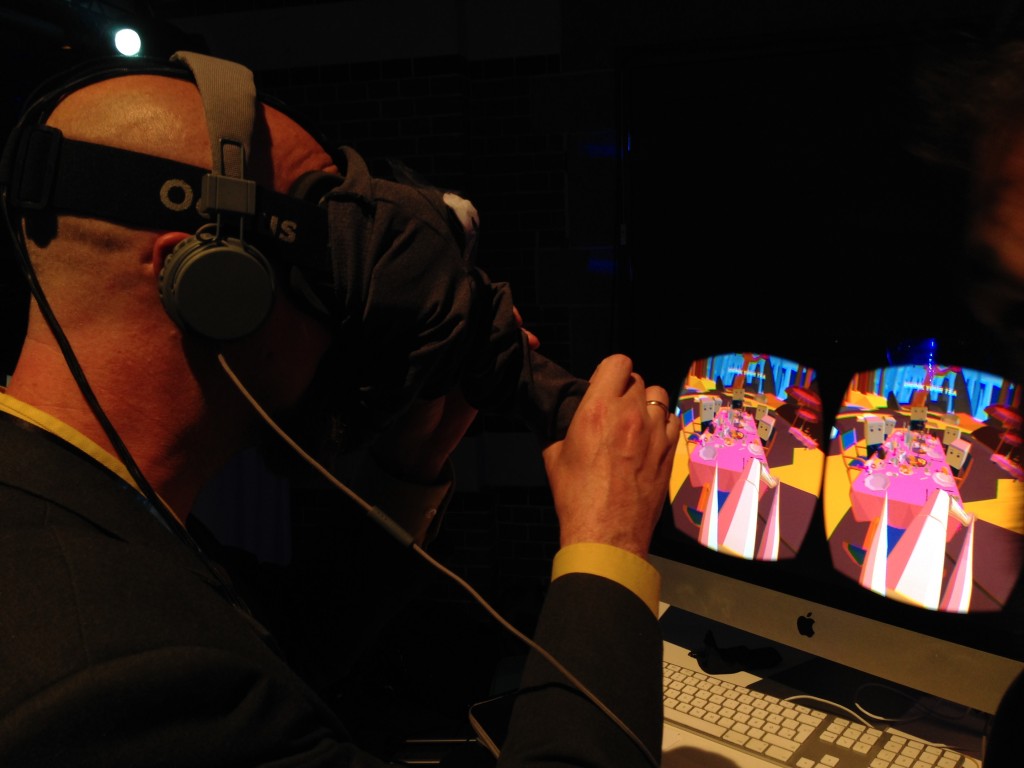 I didn't have a chance to play the winning game, "Interplanetary" although it seemed like an interesting concept. I was pleasantly surprised to hear that they had won, because it didn't strike me as a concept that would do well in that particular setting: as a single player game, pretty hardcore tactical, pretty hard to play, in a loud, party-like atmosphere, with a lot of drunk people playing. I mean, this is the kind of environment that something like Goat simulator should do well…. I digress….
Another game that caught my eye at the indie night, was "the gentleman". I didn't actually play it, but I loved the idea and aestethics of the game: You play as a dapper gentleman dancing his way down a street in the style of old-school Fred Astaire musicals. "The gentleman" struck me as a game with so much positive, happy vibe, with a style and feel all of its own, and a positive happy message. I really liked that, and I hope they make a ton of money.
I responsibly went back to my hotel without getting *too* drunk, but still, the next morning it was something of a challenge to get up. I quaffed copious amounts of coffee and fruit juice, and made my way to Chris Avellones keynote: Rolling the dice on Fallout Van Buren. Chris explained how he was a pen and paper roleplaying games geek when he was a kid. His talk explored expanded on and explained how he had expressed the core design of Fallout Van Buren in the form of a pen and paper roleplaying game campaign. Van Buren was the codename for a, sadly cancelled, fallout title he was working on.
The talk was good, and it is clear why Chris Avellone is one of this industrys absolute best designers, and why the Fallout series of games is so damn awesome. From the point of view of an old Fastaval veteran, such as my self though, it was interesting to see how Chris' RPG experience is so deeply steeped in the dice rolling, playing-to-win US tradition of roleplaying games: A tradition where it is very much about the rules, the dice, the monsters and the loot, and less about the characters, their feeling, their internal drama and their relationships. And yet, fallout is a game world full of so much ambience, mood and soul. Sadly, Chris' advice was probably useless for most other applications. He himself said as much, and added that it had taken a very, very long time to for the design to come to fruition. but there is some general lesson in there maybe: maybe a games design can be playfully created in other ways ? maybe you can gamify the design process of making a game ? pretty meta huh ? 🙂
From Chris Avellones talk, I went directly to Salone Sehgals talk about "Flirtual reality": A game about social challenges and interactions. I am always interested in games that explore the structure of games that is prevalent in fastaval style pen and paper role-play, or nordic-style LARP games. "Flirtual reality" seems to me to maybe have a little of that DNA in it, although I wasn't really convinced about how cool it is to play a virtual dating game. Unsurprising, Salone could reveal that "Flirtual reality" appeals much more to women than to men, in average they experienced 75% female players. one very interesting aspect that was mostly just mentioned by the speaker, and not really expanded on, was that the game apparently measured the players activities in game to classify the player in the Briggs Myers personality model, and then throw challenges appropriate to the players personality trait at the player: That was a very inspiring and intriguing idea, that I would love to hear more about.
 From that talk, I rushed to the nordic fast track, partly because I wanted to hear Natascha Roesli talk about "Shiftlings": I've only ever talked to Natascha online on Facebook, but would have liked to meet her. Unfortunately, Natashca was not there, for whatever reason. Luckily, we were treated to a rapid fire version of a talk about Machineer, by Henrike Lohde of Lohika games. Henrike presented of course Machineers, but also talked about games that teach in general. She gave a nice talk about dragon box, claiming that it "stealth teaches" math, algebra specifically. I have heard personally a lot of people say that Dragonbox is in fact a successful learning game, and a few people saying that it is in fact not successful. I suppose I need to read up on it myself at some stage. Intuitively, I lean towards Dragonbox being a pretty damn good teaching game.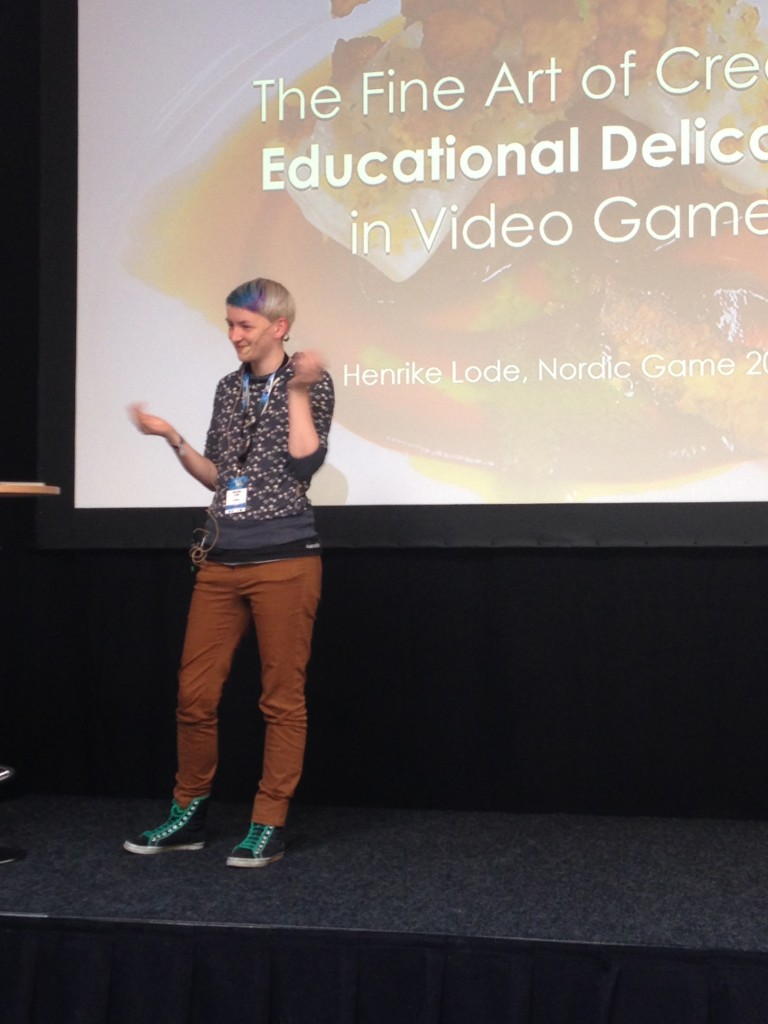 Shortly after, it was my turn to take the stage. I had a modestly sized audience. The people that were there were well engaged in the QA session after my talk, and I did get a lot of positive feedback after the talk, so I think it probably actually went OK.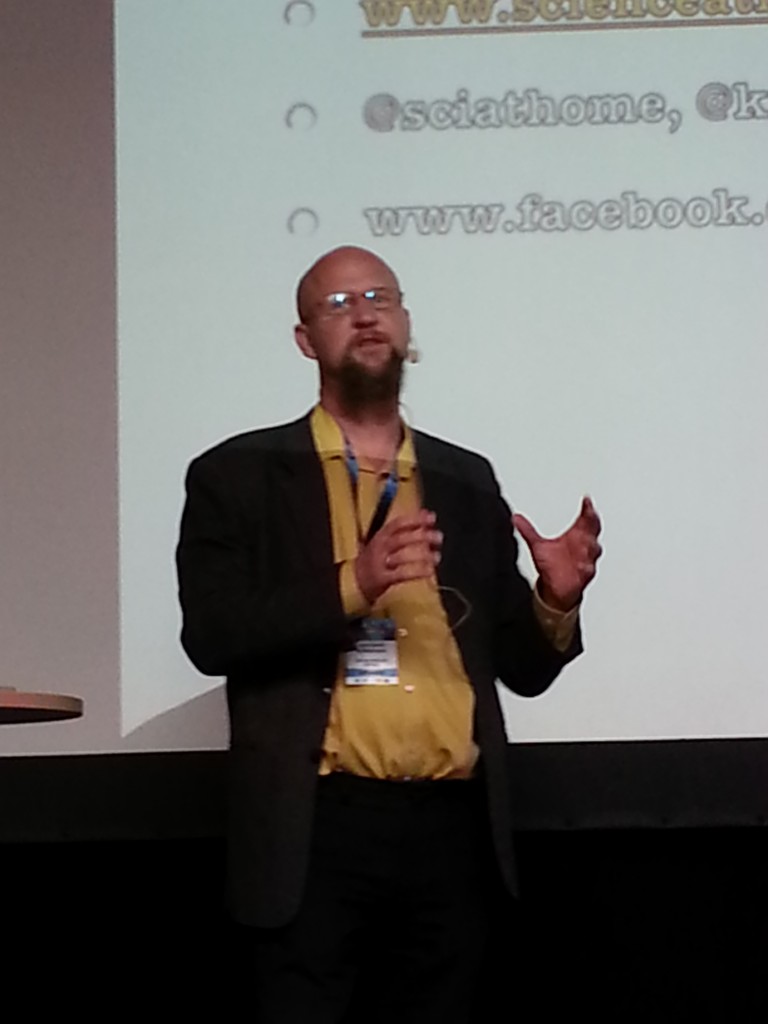 I suppose I must have been selling the topic wrong: I mean … I was talking about how we build games that help scientists build a REAL quantum computer ! How cool is that ? Anyway. It was also a pleasure to give the talk, and to announce the quantum game jam satellite that we're hosting at Science at home in September.
After the talk, I went to the main floor, talking to a couple of the people that had been particularly interested in the topic, and had a great chat with them.
The rest of that day was spent in the main Unreal theatre, first in the company of David Gaider, senior writer for Bioware, talking about creating diverse characters in the bioware games, especially dragon age inquisition. Another very inspiring talk about how Bioware, who is pretty well known for actively encouraging diversity in their games, both in terms of race, gender and sexuality. David was a fountain of excellent quotes, including "If a character is not a straight, white, male, people ask you why". He also had Nordic games best slide, the famous "But!" slide, which was about how bioware also sometimes fails to do it the right way. Guess which part of a female characters anatomy was featured on the "But!" slide 🙂
After this excellent talk, the always brilliant and amazing Ste Curran took to the stage. His performance was not a talk as such, rather it was a one-man performance art show, in which Set took us through a story and narrative with his usual fantastic timing and pacing. The story was heart rending in his description of talking to "Ghost" on a help chatline, and failing to help him or her. It was hilarious, in the description of the advice given to the (mostly ladies) manning the help line, on how to deal with callers that were "pleasuring themselves": "I'm sorry, but I cannot talk to you while you are masturbating": This turns out to be, not only the best quote of Nordic game 2015, but also a piece of advice that was useful in a lot of other interesting situations….
Ste's talk was easily the best thing of Nordic game 2015, just as it was for Nordic game 2014.
I wanted to hear Tom Happs presentation about his five years working solo on Axiom Verge, because that is of course pretty much the situation I am in myself. Tom had made the mistake of flying with United airlines, and had ended up not getting to Sweden, because United sucks. this is something I can confirm from personal experience. Instead of Tom, the person responsible for bringing Axiom Verge to market talked about how the indie business environment is quite horrible from a business point of view, and what can be done about it. His primary suggestion (which I very much like) was to launch at a reasonable price point, and publicly announce that there will be no discount of the title for at least six months, and that any discounts will be announced at least 1 month ahead of time. The basic idea is to encourage people that want the game quickly, and want to support the developer, to buy, and give them some guarantee that they won't feel cheated a few days later because the title suddenly goes on discount. This is good advice I think, and certainly a practise I will adopt.
After this longish day, I was getting kinda tired, and went back to the hotel for a brief rest. I missed the nordic game awards show, which I suppose is kinda bad style, but I was just plain too damn tired. Later that night was the Nordic game Gala dinner and party. I had the pleasure of sitting at the "Player of games" table, filled with a lot of the, mostly nordic scene, game devs from the Facebook group "Player of games". That was a nice place to sit, and one where there was a lot of super interesting people to talk with.
 The party that followed was as these things are: loud, a lot of beer to be drunk, and a lot of people trying to have a conversation. The best part of the party was outside, talking to friends, and on stage singing "Maraoke": Karaoke with classic 80s songs re-lyricced by Ste Curran to be about computer games instead. "I want it my way" becomes "my game is free to play" etc. I honestly do not remember the lyrics all that well, but it was fun.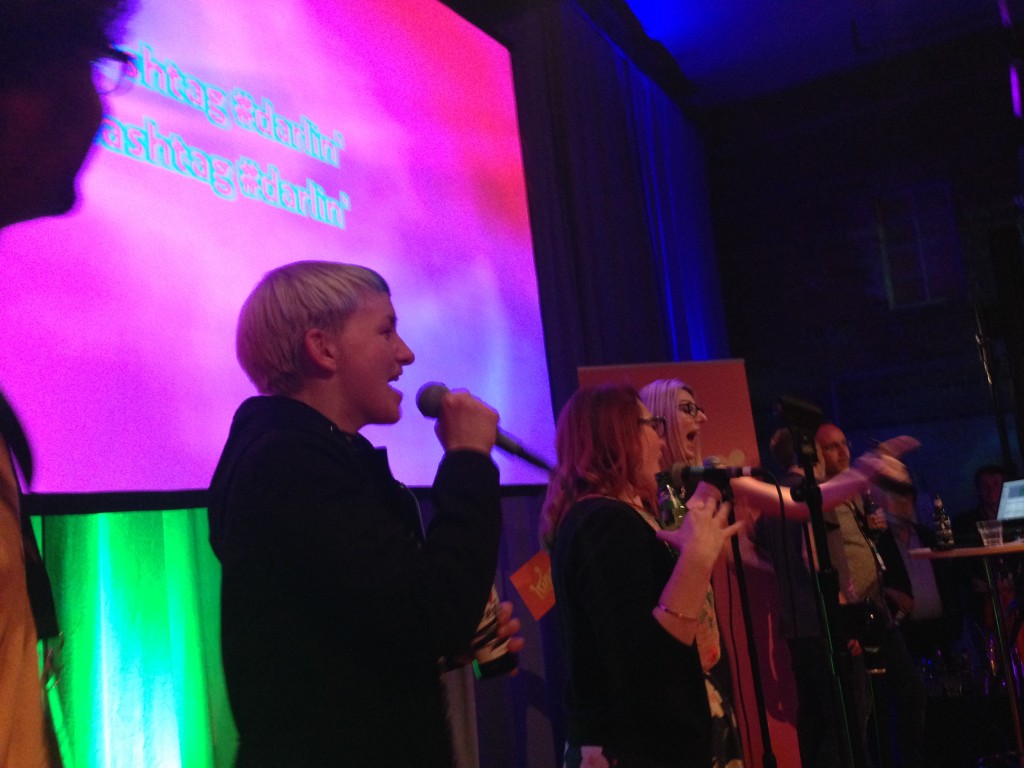 The final day of a conference is always a little sad. especially when the conference is such a personal affair as NGC is. I started out by seeing Elina Arponens talk about their game "Drama game". I have followed Dramagame since the company was founded: As I mentioned earlier, games that have their core around nordic style LARP or pen and paper role-play traditions holds a special place in my heart since the days of Runestone. I have also played Dramagame a long time ago, and then recently some more. It is a super interesting game, although I have my doubts about the execution of it: The story lines, characters and core mechanics are too cliche for my taste, and the fact that you have to wait for a while for a scenario to start, then play for something like 45 minutes, where the experience is damaged severely if anyone leaves…. these things conspire as sone serious flaws in the game, and yet, I so very, very much want them to succeed.
Elinas talk was, I hope, an eyeopener to the audience.
From her talk, I went to hear Ryan Cash talk about how to properly launch an Indie game, using his gorgeous snowboarding game "Alto's adventure" as a case story. The talk was very mobile, very App Store focussed, which of course was kind of a letdown. However, the talk was also full of general good advice in marketing.
Last year, one of the indie sensation games was the brilliantly stupid "Goat simulator". Since then, Goat Simulator has been tremendously successful , selling quite a lot of units. Armin Ibrisagic, the guy hilariously running Goat simulators community management, held a wonderful "I don't give a shit" talk about how they logically break every rule in the book with their PR and marketing, in perfect harmony with their game which also breaks pretty much all the rules in the book. This was another talk full of awesome quotes, like e.g. "It's OK to talk shit back to the customers, if you're funny while you do it".
 And funny they are….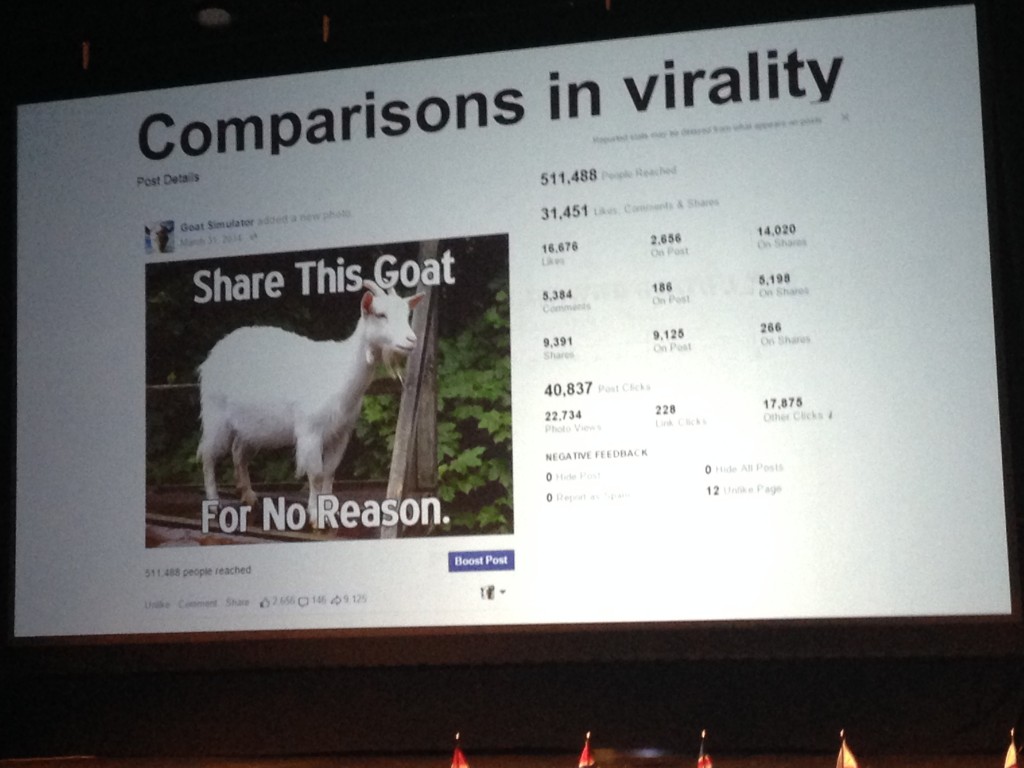 This was followed by a somewhat tired and disappointing panel about how hard it is to be indie, but also about how rewarding it is, on a personal level. Much of the panel was about publisher or self publish, some relatively obvious advice.. so.. yeah… It annoys me, that I didn't see "How to get journalists to cover you" instead.
Like last year, the conference was hilariously wrapped up by Thomas Vigild & All stars. This was, as usual, a messy, irreverent affair, but a lot of fun.
TRENDS
WOMEN
Last year, I talked about women in games being a trend. Wonderfully, it seems to be a trend that is continuing: I saw a lot more women all over the conference, and at the talks. One of the better tweets of Nordicgame was by a woman, showing a picture of an all-female panel discussion, where the topic was "managing your career": So … an all female panel about a topic not about being a woman in games. That is a cool thing. When we get to the point, where an all female panel discussing something is an unremarkable thing, then we will finally be in a good place. I think there's a long way to go still, but NGC 15 left me hopeful: even if Denmark sucks at attracting women and girls to tech and game development, the rest of scandinavia seems to be doing better.  I also feel that theres a better understanding for feminism, also among the males. But ! There's a way to go yet. A female friend of mine, working at a AAA studio in Malmö told me "There's a lot of people playing the game at a lower difficulty setting, and they don't even know it". She also told me a depressing story about how she and her team had fought the good fight to get a middle-aged female character into their game, but were ultimately unsuccessful because the (american) focus group had rejected the concept. An exec in the american branch of the company had told her that the character had ultimately failed, "because she wasn't f***able enough".
 We have quite a way to go yet before we reach the promised land.
VR
Oculus was not new last year, but this year saw GearVR demoed on the floor, an indie game sensation VR game, and a VR Game jam happening just after the conference at Shayla games. Also, VR had some more buzz this year than I felt it had last year. It is my distinct feeling that VR is just on the verge of breaking a wave in a big way. I think that all that is needed is a good game that really opens this market, and I think this is why Shayla games VR game jam is so supported by Unity. Of course there is a personal connection between Unity tech and Shayla games, but there is also a clear interest from Unity for VR games to break through. I personally will be looking very closely after this trend, and like everyone else, try to think about what kind of games could be made better with VR.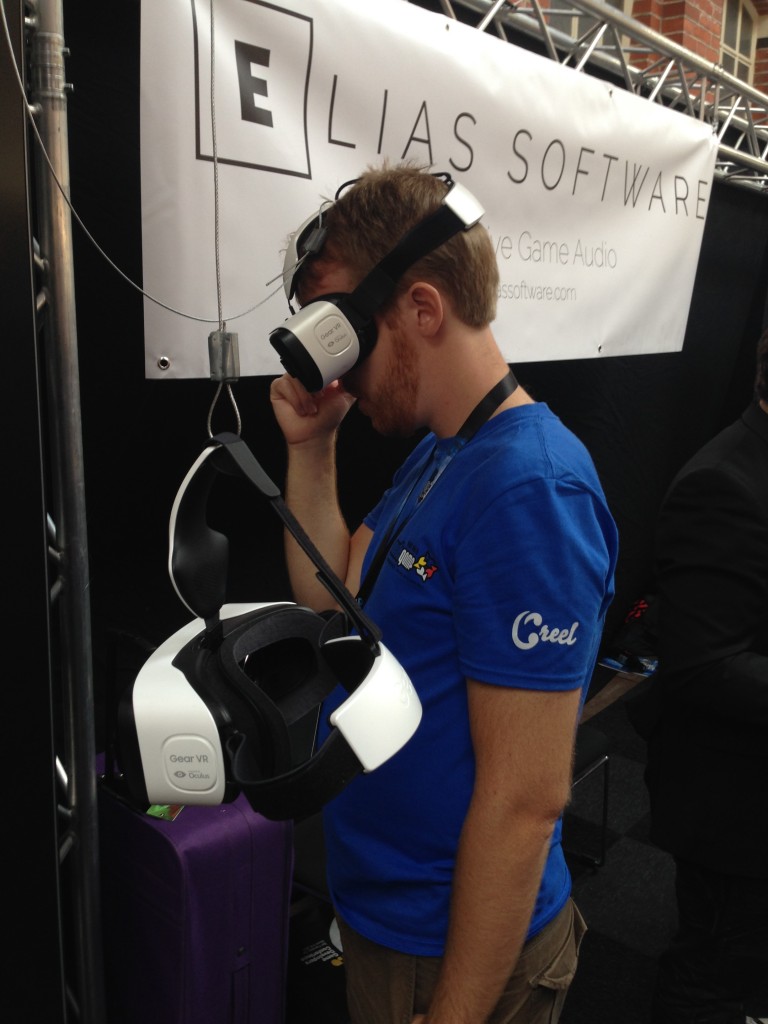 END OF THE INDIE DREAM?
A number of the talks this year was about how horrible the business environment is for indies. A number was also about optimism and opportunity in the indie ecosphere. In some ways, it seems like the indies are waking up to the facts of life: It is harder to sell a game tun it is to make one. Mobile is becoming much, much harder to break into, and maybe even steam is getting more difficult to get noticed on. It is hard, very hard to get journalists to write about your little indie game, and consumers do not care that you are just a few guys with a shoestring budget working weekends and evenings: They will still compare your game with AAA productions with three digit million dollar budgets.
It IS hard, and there is a LOT of competition, but it is also an age where the barrier to entry has never been as small before. Of course one thing causes the other, and the more indies there are, the larger a market there is for tools. this should make the ecosystem of tools and third party services and assets even better: When there are many gold diggers, there are many people selling shovels and picks, and they are probably the most likely to earn money.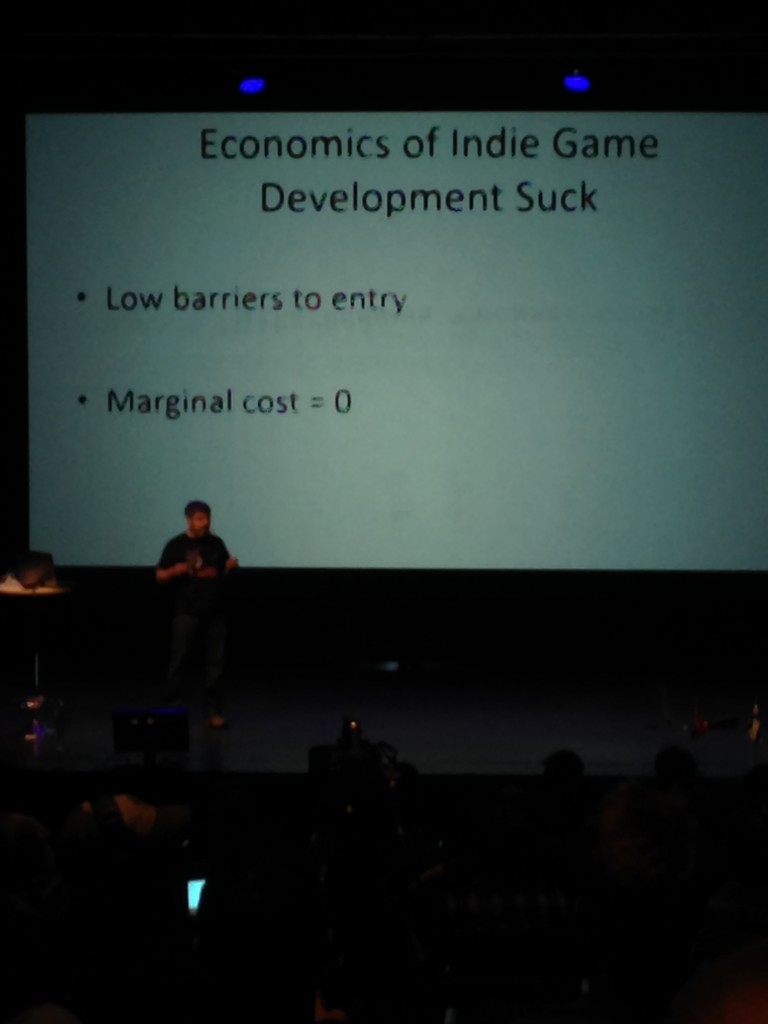 As I felt the buzz, the younger the indie dev, the more optimistic. The older indies, the ones that have one hit and a string of misses behind them, are more sceptical. I personally think this is a good time to be stubborn and patient, to stick it out and stay alive until times change for the better.
SOCIAL, TRULY SOCIAL, GAMES
Flirtual reality and Dramagame seem to be doing well with a new genre of games: Games that are about navigating the social interactions between people. This is to me a significant evolution in the genre, allowing us as a medium to explore stories about other things than zombies and guns and explosions. It is also unsurprising to me, that the two talks I heard about these subjects were both held by women, and both made it clear that this is a class of games that appeal massively to women. I still believe that both Flirtual reality and Drama game are only scratching the surface of something really, really interesting, and potentially disruptive. When "Seed" failed commercially almost ten years ago, I said that I hoped investors in the business would draw the right conclusions, not the wrong ones from our failure: I hoped then, and hope still, that people would draw the conclusion that we failed in execution, not in idea and concept. It seems like there's a new breed of games on the way now that may be on to a better way of executing on those ideas. Since Seed, I've had my own dreams and thoughts about how to pull this off in the right way, but I still don't have the answer. Maybe they do ?