So. I went to a gamejam.
I've been wanting to try a gamejam for some time now. While I was development director at Unity Studios we did a couple of game jams, but I've never tried a gamejam where the other participants were people I hadn't worked with before. Gamejams seems to be becoming something like a movement by now. A sort of sub-sub culture of the sub culture of Indie game devs.
The particular game jam I attended, was Game changer game jam right here in Århus. In fact, right in Filmby århus where we incidentally headquartered during the Runestone game development days.  The game jam was organised by a couple of local guys, Robin Sverd and Jonas Klemmensen, both of them Kaospilots.  The philosophy of the game changer game jam is to make games that change the world. So, no pressure there :-).
The jam kicked of with presentations from Christian Fonnesbech about cloud chamber which I assume you, dear reader, know about. Otherwise, check it out: It's a cool project. After Christian, Adriel Wallick and Rami Ismail gave us a very informal but highly informative presentation about why they both love game jamming, and why game jamming is something all game devs should do frequently. Both of them also very much live what they preach: Adriel is working on her "one game per week" project, and has been working on it for 30+ weeks. She told us that she at the current time spends most of her time basically travelling from gamejam to gamejam. And making one game pr. week. on top of that. Crazy stuff. Rami seemed to be travelling at least as much, maybe more than Adriel.  After Rami and Adriels presentation, Ryan Green floored the audience with his extremely personal tale about his game "That dragon: Cancer". The game is an autobiographical story documenting Ryans family against, as he put it, "the monster we found in my son Joels brain". Joel Green was declared terminal at the age of two, and died very recently at the age of five. Hearing Ryans story was inspirational and emotional on a completely different level deeper than I had thought, and for me, this was where the ante was upped quite seriously. This was where I realised that this gamejam was not going to be about making a "fun" game, but be about making a game that wanted something more than entertain for a few minutes.
After Ryans presentation, Michelle Mildwater of the volonteer NGO "Hope now" stepped up to the mike, to present the theme of the Jam. The theme was "Justice" and the "Hope now" organisation was an optional specific topic we could base our games on. "Hope now" helps trafficked women in Denmark, and Michelle explained about her work to us, and about the kinds of difficulties trafficked people (In Denmark mostly women) face. She also educated us about the global situation sorrounding trafficking, and how it extends way beyond sex slaves, into also good old fashioned labour slavery.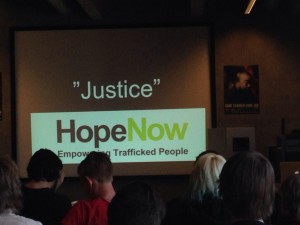 After Michelles presentation, it was time to team up.
I browsed around, and ran into a small group of students that looked like they were forming a group. I asked if I could join in, and just like that, we had a team.
I'm 43, and the person I spent most of the Jam working closely with, was Rikke, a student from Grenaa IT College, at 21. I don't think she was the youngest on our team. Let's just say I felt pretty damn old, but old has its advantages. I found out during the next 48 hours, that I can still summon the stamina to pull an all nighter (well … almost anyway) if I have to. It was fun to hack away as a part of the team, even if I did possibly maybe push a little bit of structure and just maybe possibly did take a teensy weensy bit of producer responsibility on. Anyway.
We decided on a concept where the player manages a mega corp. As the manager, you're supposed to pursue business opportunities around the world. Eact turn, you have three actions, which you can use to accept or decline business opportunities. Most opportunties will earn you some money, but maybe have a shady morally iffy side to it, like hiring cheap labour in e.g. India.
But hey: You're making money right ?
When you've done your three actions, the board will review your actions, and especially will look at the bottom line. After the boardmeeting, you will see news stories talking about the business opportunities you chose, e.g. talking about how "Megacorp" used slave labour in India…. Some of the stories would be based on real stories about corporate greed, and we would link to the real story. The idea with the game is to explain how corporations that are usually made up of good moral people, end up becoming evil, as many large corporations do.
You can check out the game here, on itch.io. You can also see the other games from the game jam on that site, here. I especially recommend you taking a look at the winning game "Are we there yet", which has a really, really cool and well made game idea. Also "Companion" is cool, with a lot of soul and ambience, if somewhat lacking in gameplay :-).
So. what is my impression of going to a  gamejam ? It is always cool and inspiring to participate in something as condensed and in many ways extreme as this. I can recognise a lot of the energy from similar gatherings of geeks (I'm looking at you fastaval 🙂 ). Also, there is something very particular about game devs, and about how creative people become after sleep deprivation and complete focus on one particular thing for many many hours straight on. So, I am sure I will go to another game jam some other time. I liked jamming with my team, but I think the next time around, I'll try to find some people that are more at my approximate level of experience and age, if possible. I think that will be more fun for me, and more fun for my team. I'm afraid I was a little dominating in our team. If so, sorry team :-).
I think I will want to be involved in next years GCGJ, if the guys decide to do it again….